SUPERIOR SEPTIC CLEANING KNOW - HOW
A properly designed septic tank system will have a septic tank with sufficient volume to accumulate solids for several years. Over time the solids accumulate and begin to fill up the septic tank. If these solids are not periodically pumped out, suspended solid particles may begin to flow into the absorption field. These solids will eventually clog the absorption field and may require the installation of a new absorption field. Newer septic tank systems are required to have an effluent filter located on the outlet of the septic tank. The purpose of this filter is to protect the absorption field by trapping suspended solids. If the septic tank is not pumped out periodically, the effluent filter may become clogged causing wastewater to back up into the house.
A specific determination of when it's time to pump a septic tank can be made by having the depth of the solids and level of scum buildup checked periodically. New septic tanks have an access port over the inlet and outlet tees to facilitate the cleaning of the effluent filter and pumping of the tank. Two factors primarily affect the pumping frequency required. The first factor is the holding capacity of the septic tank. The more people using a system, the faster the solids build up, and the more frequently the tank will have to be pumped. A larger capacity system provides better treatment and requires less pumping. The standard three or four bedroom house has a 1000 gallon septic tank. The second factor is the amount of solids in the wastewater. If you have a garbage disposal, you will have to pump out your septic tank more frequently. The use of a garbage disposal may increase the amount of solids in a septic tank by as much as 50%. Pouring grease or other non-biodegradable types of solid waste drown the drain will add to the accumulation of solids. Homes with garbage disposals are required to increase the size of their septic tank by 50%.
A three or four bedroom house with a garbage disposal is required to have a 1500 gallon septic tank. The recommended pumping frequency for pumping out septic tanks can be estimated based on assuming a wastewater retention time of 24 hours and assuming that 50% of the solids are digested by bacterial action in the tank.
When to Pump a Septic Tank
1. How often should I pump my Septic tank?
A: On average, every two years depending how many people live in the house.
2. Why do Septic systems fail?
A: Because of lack of maintenance and due to build up of sludge and deposits.
3. Why do I need certification?
A: Certifications are required for real estate transactions. They are outlined as requirements to obtain certain types of home loans. They exist to protect the buyer from purchasing "unserviceable" property. Also, they are outlined as requirements to obtain certain types of home loans in escrow items.
4. Where are septic tanks located?
A: Usually 12-18 inches underground and normally 5 - 10 feet from the house (varies).
5. How long do septic tanks last?
A: Typically between 15 - 20 years.
6. How fast will a septic tank fill up?
An empty septic tank will usually fill up in less than 10 days.
THE CALCULATION IS:
50 GALLONS OF WATER PER DAY PER PERSON
AVG HOUSE IS 3 PEOPLE
3 PEOPLE X 50 GALLONS = 150 GALLONS PER DAY FOR 3 PERSON FAMILY
TANK CAPACITY IS 1000 GALLONS
LESS THAN 7 DAYS
but don't worry this is NORMAL.
7. If I had my tank pumped 15 years ago, why is it overflowing in less than a month?
The system is starting to fail. Septic tanks should be pumped every 2 years as maintenance to ensure a long life for the system ( a long life is 50years). Septic tanks are notmeant to overflow since they are pumped every 2 years. Systems that are overflowing require immediate repair and attention.
Further detail: A septic system is an ecological system that requires regular maintenance every 2 years to ensure performance. Maintenance is pumping every (2) years to remove soilds that have accumulated in the septic tank and monthly bacterial treatments. Once a system is overflowing it is no longer digesting water; hence it's overflowing. Overflowing systems must be replaced according to your local jurisdictions requirments.
CLICK HERE EMAIL US YOUR QUESTIONS
SEPTIC TANK CLEANING
Are you looking for expert septic tank cleaning in Duluth? Regular maintenance of your septic system is important in ensuring proper system functioning. Our technicians are fully trained to complete maintenance and repairs of all septic systems including drip systems, gravity systems, mound systems, and advanced pre-treatment systems.
We provide inspections and repairs for the following system components:
• Drain fields
• Pump pits
• Sewer lines
• Basement sewer ejector pits
• Sewage pumps
CLICK HERE EMAIL US YOUR QUESTIONS
LICENSED INSTALLS
For licensed septic installation in Suwanee, call Superior Septic. We also complete sludge checks and filter cleaning. Our technicians provide real estate inspections of existing septic systems and to furnish locating services as needed. We offer septic installation, septic pumping, septic system repair, and general maintenance, as well as maintenance of grease traps. We cater to both residential and commercial properties and we are well aware of the differences associated with each type of septic environment.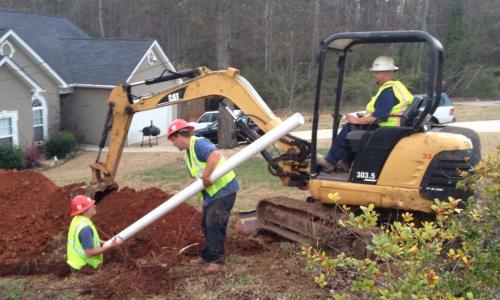 Contact Us For Your Cleaning!
If you have questions about your septic system or need assistance in determining which type of septic system will work best for your home and lifestyle, we can be of assistance. Call us or contact our Canton Septic Service Company today for a free quote and consultation. We are here to serve you better!
Septic Tank Pumping | Septic Tank Cleaning | Septic Pumped
Lawrenceville | Duluth | Suwanee | Georgia, Cherokee Septic Pumping, Canton Tank Cleaning, Forsyth Ga, Kennesaw, GA